La Cabaña (  en.  The Cabin ) is a location on the Netflix series Elite. It is a restaurant where Nano and Samuel worked.
The restaurant serves burgers and beers. It has a minimalist design and has square-shaped wooden tables. There are outdoor eating areas by the reservoir. At night, mood lighting is used.
The logo of La Cabaña is a drawing of a bird flying with the words "La Cabaña" underneath in a script font. It is engraved on a wooden plaque on the exterior of the restaurant. The logo is identical to El Náutico's, the restaurant where the scenes at La Cabaña are filmed.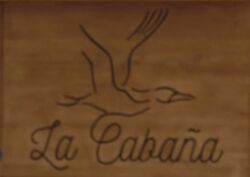 History
[
]
The restaurant was shown in the series throughout Season 1.
Samuel and Omar both applied for jobs at La Cabaña, however only Samuel was offered a job. He worked there as a waiter, and later, he helped his brother, Nano, get a job as a cook by falsely claiming that he had cooking experience.
Guzmán, Polo and Ander often ate at La Cabaña together in the afternoon. In Sábado noche, the two thugs who had been threatening Nano ate there. Later in the episode, Polo ate dinner at La Cabaña with Carla and her parents, Teo and Beatriz.
Staff
[
]
Customers
[
]
Visitors
[
]
Quotes
[
]
---
Trivia
[
]
Cabaña means "cabin" or "shack" in Spanish.
The restaurant is located next to a reservoir and the bridge where Omar sold drugs and where Guzmán contemplated suicide.
Marina visited Samuel at the restaurant. Outside the restaurant by the lake, Samuel recorded a video of Marina for their class project. It was during the filming of this video where Marina revealed that she had incriminating evidence of her father's corruption.[2]
Both Omar and Samuel applied for the job at La Cabaña, but only Samuel got the job. Omar claims that this is because the restaurant did not want to hire a Muslim.[3]
According to Nano, he worked 40 hours per week at La Cabaña for a salary that wasn't enough to cover rent.[4]
In real life, La Cabaña is a restaurant named El Náutico and is on the banks of the Los Arroyos reservoir.[5]
Appearances
[
]
Gallery
[
]
See also
[
]
References
[
]