Valerio Montesinos Rojas is a main character in the second and third season of the Netflix series Elite. He is portrayed by Jorge López.
Valerio is Lu's paternal half-brother. He was sent away to boarding school prior to the pilot but returns to Las Encinas at the beginning of season 2.
Following his parents' separation, Valerio has continually been forced to move from place to place with one or other of his parents. Valerio is somewhat of an elusive character on the show and frequently seems to have his own agenda. Although he has proven himself to be vindictive on occasion, he has also shown true vulnerability and compassion and kindness. He is a resident party animal at Las Encinas and is always up for a good time. Due to his charm, he can be persuasive and often leads people down the wrong paths, largely due to his own struggles with drug abuse. He returns home in season 2 and tries to win back the affections of his half-sister Lu who he is in love with.
Valerio returns to Las Encinas, after spending some time away in boarding school due to bad behavior. He returns with the intent of reconciling his relationship with Lu. Lu is, however, dedicated to Guzmán and is attempting to help him grieve from the loss of Marina. Recognizing that Guzmán is vulnerable, he offers him an escape in the form of drugs, knowing that this is something that will disgust Lu. He also flirts with Rebeka, but they are interrupted by Lu who warns Rebeka of her brother.
Valerio witnesses Nadia and Guzmán talking in the hall at school and recognizes their chemistry. He goes to Nadia and asks her to tutor him after school, she agrees to help him after he offers €100/hour. When studying chemistry, he prompts Nadia about her undeniable connection with Guzmán. Lu and Guzmán return home from school and can be heard arguing in the room next to Valerio and Nadia. Valerio interrupts the fighting and offers a quick fix to Guzmán much to Nadia and Lu's horror. Valerio's plan to bring Guzmán closer to Nadia and to further the distance between Guzmán and Lu works, when Nadia asks to accompany them to the Red Party that evening as a way of keeping and eye on Guzmán. That night Lu is upset by Guzmán and Nadia's bond and turns to Valerio for comfort. They spend the night together dancing and drinking and when they return home they kiss. Lu manages to stop things before they get too heated saying that they promised they would never go down that path again.
At Rebeka's Halloween party, Guzmán breaks up with Lu telling her that he slept with Nadia. Once again Lu turns to Valerio for support and the two make out and have sex. They are however interrupted by Samuel who opens the door on them. Following her breakup with Guzmán, Lu begins to threaten Nadia, telling her to fail all of her exams if she doesn't want her fling with Guzmán to be reported to her parents. Nadia confides in Valerio who advises her to tell Lu that if she continues to threaten her she will tell the whole school about the "Valerio Thing". Afterwards Nadia asks Valerio what exactly he meant by the "Valerio thing". Before telling her the truth Valerio admits that he will be sad to lose Nadia as a friend. Soon after this occasion, Valerio records Nadia and Guzmán having sex in the locker room and shows the video to Lu. Lu broadcasts the video around the entire school in a fit of rage. Nadia is devastated as she feels that she has betrayed her families trust and brought shame upon them. Consumed by guilt Valerio admits to Nadia that it was he who recorded the video.
Valerio is disgusted by Lu's actions and in order to get revenge he reveals the true status of their relationship to their father. He then tells Lu that her actions have made him realize that she is not what he wanted after all. He bluntly tells her that he can now only ever love her as a sister. This leaves Lu heartbroken.
In season 3 Valerio is still hated by his father who believes that he has manipulated and taken advantage of Lu's innocence. His father wants him out of his house and as far away from Lu as possible. Valerio convinces Lu to explain to their father that he was not the only instigator of their relationship but when she attempts to do this, his father cuts off her allowance and orders her to leave the family home upon turning 18. Rebeka in an attempt to get her mind off Samuel flirts with and kissed Valerio in a night club. The two would have had sex but Valerio could not get it up. Rebe blames this on all of the drugs that he takes but also on their lack of chemistry.
Penniless and desperate for drugs, Valerio begins to fall to new lows in search of some. Rebeka's mom Sandra notices this and decides to see how far Valerio will go. When it becomes clear that Valerio would have sex with her in exchange for drugs she is disgusted and advises he looks at himself and where he is in life.
Valerio initially sleeps in his car after being kicked out of home believing himself to be above living with the likes of Samuel, but he moves in with Samuel after Samuel's mother leaves to be with Nano.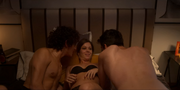 Valerio starts to take an interest in Cayetana and Polo. He mentions the threesome style relationship that Polo, Carla and Christian had, saying that it was sexy and that it really turned him on. He says that the three of them are special and unique, different to the other students in Las Encinas. Although Polo initially has reservations Valerio eventually starts to date Cayetana and Polo in a throuple situation.[3]
At the same time he starts dealing drugs alongside Rebeka, they split their profits 50/50. Lu is disgusted with Valerio when she finds out that he is dating Cayetana and Polo, but he is unfazed by this. For the first time in the series things seem to be going successfully for Valerio as he is happy in his relationships and has Rebeka and Samuel to live with. He is happy when Rebeka refers to the three of them as a family. His grades also begin to improve as Polo and Cayetana help him to study. Polo and Cayetana suggest that Valerio accompanies the two of them to London after graduation to attend King's College.
Issues arise, however, when Polo's moms find the three of them is the pool together. They are disgusted and ask Polo what he is thinking. Valerio is upset by this, but Cayetana tells him that his presence had improved her and Polo's relationship and made them whole. Polo's mothers however do not accept this throuple and Valerio has no way of paying for college in London. He makes enough money from selling drugs to afford to move away but afraid of telling Polo and Cayetana that he is dealing, he lies and says that his family gave him the funds to ensure that he leaves them for good.
Valerio persuades Carla to start taking drugs so that she can feel happy and in love. However, Carla becomes addicted to the high and gets hooked. When Samuel finds this out he attacks Valerio and tells him to get out of his house. Samuel also tells Polo that Valerio has been selling drugs to Carla. This leads Polo to question his relationship with both Cayetana and Valerio and forces him to see what he has become. He ends things with Valerio and forces him to leave. After this, Valerio tells Rebeka that he is out and no longer wants to be a part of their drug heist.
At Yeray's pool party, Valerio refuses to sell anymore drugs to Carla. Carla buys them off Rebeka instead and overdoes. She falls into the pool and is saved by Polo. The following day at school Polo attacks Valerio in the hallway, ignoring his claims that he did not sell the drugs to Carla. As a result of this altercation Valerio and Rebeka are exposed for selling drugs at school and are expelled.
Valerio and Cayetana attend the graduation party together. Valerio is angry with Polo when he arrives. However, Polo reveals that Cayetana was guilty of sending the tweet that blackened his name in every school across Europe. Valerio is disgusted with Cayetana. He breaks up with her, saying that their relationship did not break down because there were three people involved but because all three of them were toxic.
When Lu accidentally murders Polo, Valerio is by her side. He tells her not to feel guilty and to lie to protect herself, just as she used to protect him throughout their childhood. Valerio partakes in Guzmán's plan; that each of them should accuse another in order for Lu to walk freely. He accuses Cayetana of killing Polo - saying that she was jealous of their relationship.
After not finishing his education at Las Encinas, Valerio is in a good place. His relationship with Carla is repaired and she asks him to manage the wineries on her behalf whilst she is studying. Valerio introduces himself to her father and expresses his interest in the business particularly in marketing.[4]
Valerio is a tall and handsome man of toned stature with strongly defined facial features and prominent cheekbones. He has curly brown hair, brown eyes, and abs. He is attractive and both men and women seem to be attracted to him and his "bad-boy" charisma; his relationship with Cayetana and Polo is based on both his attraction to Polo and Polo's attraction to him.
Valerio is compassionate and kind towards those around him, but is, simultaneously, ruthless to those that stand in his way. Valerio saw no issue in manipulating Guzmán and feeding a drug addiction — started by Valerio — to ensure Lu would repulse Guzmán.
He doesn't care about people other than the ones to whom he is fond, and his acting seems contradictory. He shoots a video of Guzmán and Nadia having sex and sends it to Lucrecia, but he gets angry when Lucrecia uploads it on the internet because she hurted Nadia.
He lives and acts always on the razor's edge and he needs people to prevent him from go over the edge. He has no remorse in selling Carla meth, causing her drug addiction, but he regrets it when Polo explains the situation. His behavior could be conditioned by his constant drug abuse.
Lu is Valerio's paternal half-sister. The two have a complicated past, and Valerio admits that he has been in love with Lu for a while; Lu is aware of Valerio's attraction to her when he first returns to Las Encinas and tries to avoid him. The two briefly engaged in sexual activities despite being related, however, Lu called off the relationship and reiterated that the two were related.
Eventually, when Valerio's father decides to kick him out of the house, Lu admits that the two have engaged in sexual activity, and that she is not the perfect daughter he once thought she was. This leads to Lu being cut off from her family's wealth. They eventually seem to accept that the two have feelings for one another, and it is spread around the school that the two have slept together. When Lu leaves for New York, Valerio seems saddened.[5]
Valerio asks Nadia to be his tutor and Nadia refuses at first but the Valerio offers her money and she starts helping him, throughout their tutoring sessions they start talking more and become friends, some will say that there was a sort of attraction from Valerio towards Nadia but it isn't confirmed.
He films Nadia having relationships with Guzmán and sends it to Lu who later posts it online. Valerio then confessed to Nadia that he took the video after seeing how it affected her, this causes a rip in their friendship.
Valerio meets Carla during a party and introduces her to drugs by giving her a dose of meth. Carla, who never did drugs before, quickly becomes addict to it. He therefore becomes her drug dealer at school.
Then Polo tells him that Carla used to be scared by addictions (the reason why she never did drugs) because she is particulary prone to it and, thus, she isn't able at all to control her drug abuse. They meet at Yeray's party, but even if Carla is willing to pay him more money for a dose, he refuses to sell her meth. However, Carla obtains a dose from Rebeka, but the mix of meth and alcohol causes her an overdose. She nearly drowns in the pool, and wakes up next day without remembering anything. Valerio, who feels guilty for her condition, refuses to sell her more drug, but conceals the fact that it wasn't him who sold her that nearly fatal dose. She eventually founds it out later from Rebeka herself.
At the end of season 3, Carla hires Valerio as her partner in her family business. In fact, she plans to go abroad to attend university, but she can't since the vineyard company is now registered in her exclusive name. So she decides to hire Valerio as chief of public relations, in order to take advantage from his innate skills in organizing events.
Valerio becomes interested in Cayetana and Polo, and then the three of them engage in a throuple similar to the one Polo himself had with Carla and Christian. Their relationship started only in a sexual way, but later, the they all fall in love with each other and planned to go to college in London together. Their relationship breaks up after Polo founds out that Valerio sold drug to Carla.
Valerio is Rebeka's colleague in drug dealing while Sandra is in prison. The two of them sell drug in Las Encinas and make enough money to pay their bills and their school fees and to survive. They cut it after Carla's overdose.
Valerio was in a polyamorous relationship with Cayetana and Polo, which means he is bissexual or panssexual.
Valerio is the only known school dropout as he decided not to finish senior year.
Valerio has little if no respect for Las Encinas' uniform: he wears his shirt unbuttoned and his tie loose, but no one seems to care about it.
Valerio is one of the two only students who don't attend university after the senior year, but instead found themselves a job. The other is Cayetana, who becomes Las Encinas' cleaner.

The difference is that Valerio can't attend university as he hasn't graduated, Cayetana chooses not to.

Valerio drives a grey Mercedes Benz convertible, which he briefly lived in after being kicked out of his house.
Community content is available under
CC-BY-SA
unless otherwise noted.